Individual, high-quality and diverse - Glass Spheres
Glass balls are an important part of our program. Beginning with a size of 1 mm, we produce balls in many different designs. You will find further information about our small balls (borosilicate balls) here.

From 20 mm up to 150 mm diameter, these balls are available in various colors and designs. Regardless of whether as balls without holes, with stud holes, or also with perforated holes - we can offer many varieties. In many cases, we are able to fulfill our customers' individual wishes. The hole diameter as well as the hole depth (for balls with stud holes) can usually be adjusted to your wishes.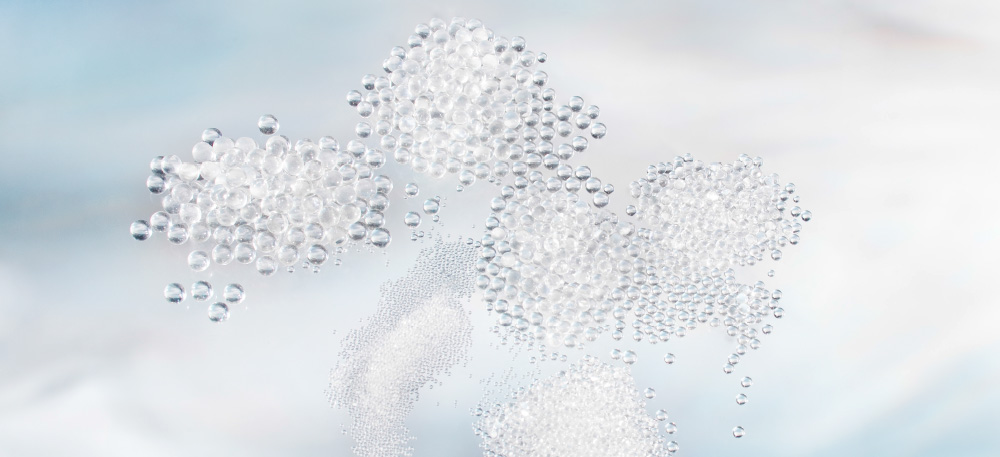 Glass balls without holes
We produce balls without holes in many sizes and colors. Up to a size of 150 mm, we offer glass balls without holes in a high-grade quality. Our corresponding standard color palette can be found in the category People (4th photo on that page)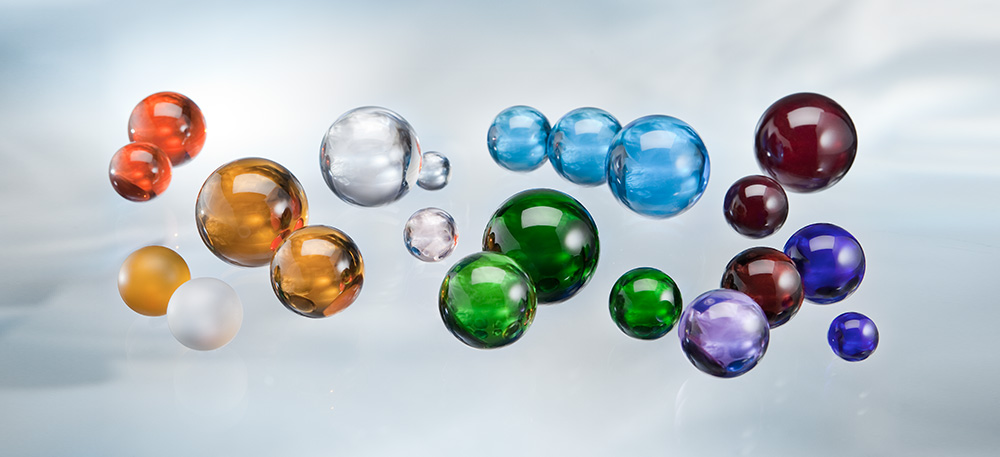 Starting with a size of 20 mm, we offer glass balls with holes. The hole sizes have standard designs. It is possible, however, to drill holes in full glass balls according to your specifications.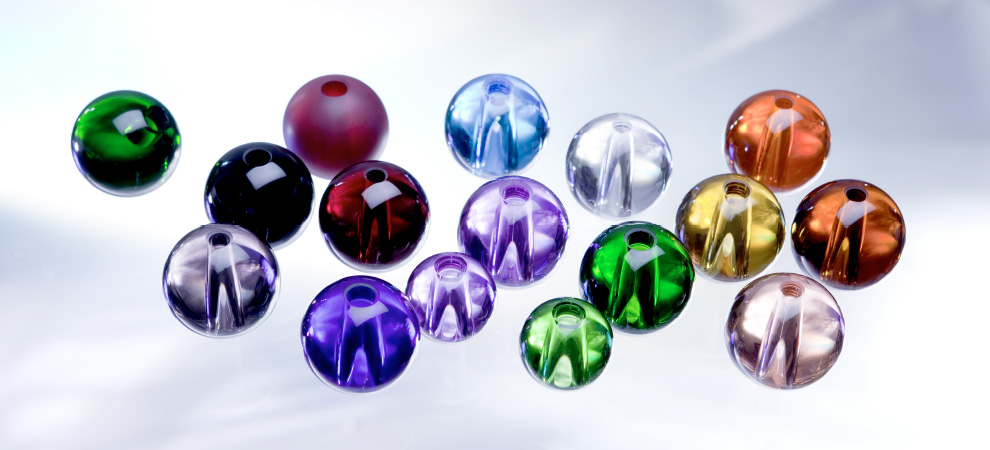 Glass balls with stud holes
We can drill stud holes into full glass balls / glass spheres according to your wishes. This type of bead is used as a cap for rods, for example. We can offer a variety of drill hole diameters. The depth of the drill holes can usually be produced according to your wishes.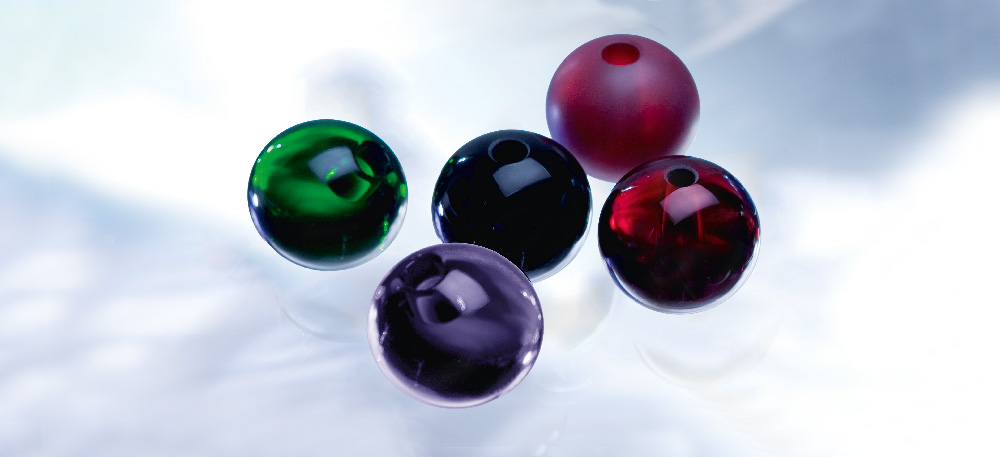 Our products are not only available with colored glass, but also with diverse high-vacuum coating effects. Our color palette offers an interesting choice of colors, from crystal AB to Bermuda blue and vitrail medium.

Theses effects can be put on many articles and lend our glass products that certain special something.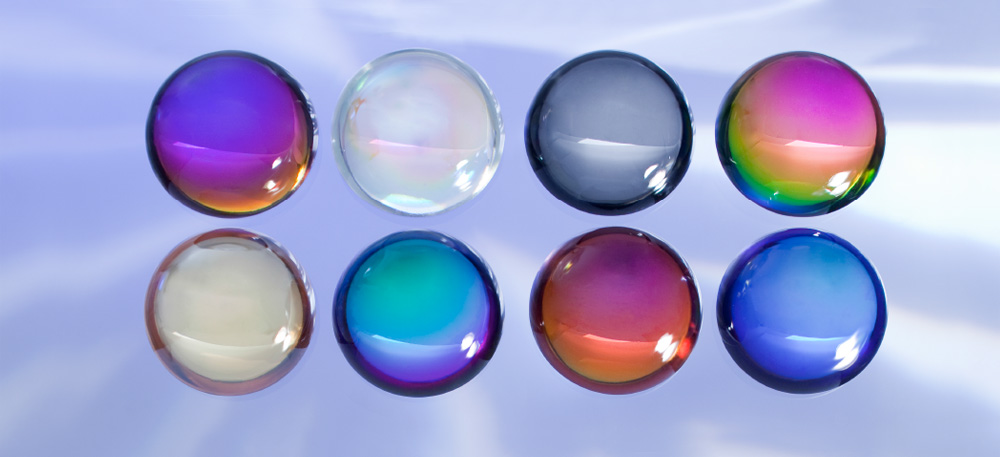 Our bead assortment is rounded off through the bubble balls. It is the large and small air bubbles which give the balls a special optical charm. We offer this article in various colors starting at a size of 30 mm.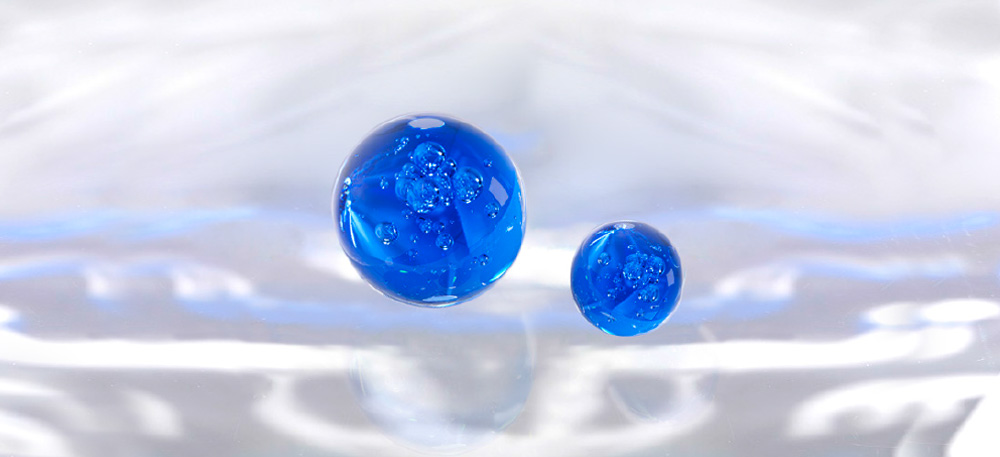 Possible uses for Glass Balls
in ball bearings
as mixing balls for insulin
ball valves in dosing pumps and dispensers
Crystal balls in the food industry
balls out of glass in works of art
advertising gifts
Glass balls / crystal balls with stud holes, without hoes or with perforated holes for interior areas, for example banisters, door knobs and handles, bathroom fixtures, etc.
Download list of products
Glass balls from Schäfer Glas
Glass balls of all types and designs comprise the main part of our extensive assortment. The possible uses for our glass balls are equally diverse. The smallest balls (starting at a size of 1 mm) are used in the area of medicine. Small glass balls, which we produce in our company from borosilicate glass or soda-lime glass, are also used as locking or ball valve balls, for grinding or milling, for water filtering or drinking water abstraction and much more. We also produce glass balls starting at a size of 16 mm.
Glass Spheres varieties
Regardless of whether without holes, with stud holes or perforated holes. Our assortment contains diverse sizes, colors and designs. In many cases, holes can be drilled into the glass balls according to your wishes. Our glass balls are of high-class quality and are valued and loved world-wide. Furthermore, our assortment is rounded off by bubble balls, faceted balls and hemispheres in various sizes and designs.